Relevant Reporting
Following the IS attack on Sweida, local sources reported on the abduction of civilians.
Storyful's years of reporting on the war in Syria allowed us to create lists of reliable sources, catalogued for internal use with relevant information: names, translated names, logos (where appropriate), associated locations and areas of coverage, associated accounts, and notes on affiliations or political links.
This methodology informed our approach to covering this incident. Facebook is by far the most used and most popular social media platform for Syrians. Starting with simple translations of the word Sweida into Arabic, Storyful used that word to search for local Facebook accounts, including pages and groups, to help with monitoring for updates on the hostages.

The search below shows popular Facebook pages that post daily news and are associated with Sweida.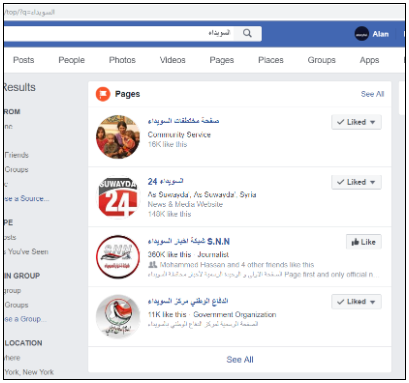 We also looked at pages and groups associated with the Syrian minority Druze population in the city. We searched the Arabic word Druze (الدروز)  and added a number of Facebook pages to our lists. We monitored these Facebook pages on daily basis.
This process gave us early alerts to reports and content emerging on the story.