Suicide or Escape? Fact Checking Reporting on Migrant Abuse in MENA
How Media Misled the Public with a Viral Snapchat Video

This post is part of the WITNESS Media Lab's new project, "Perpetrator Video in the Middle East and North Africa (MENA)". This project examines how human rights advocates and journalists can turn the proliferation of eyewitness and perpetrator video into more ethical and effective storytelling and documentation of human rights abuse in the MENA. Follow along each month as we share resources, case studies, and more to strengthen and protect communities against harm through safer, more ethical and more effective use of video in contemporary reporting and advocacy in the MENA.
90% of all Kuwaiti households employ a foreign domestic worker. Over 620,000 migrant domestic workers in Kuwait, accounting for over 21.9% of the country's total employment.

Source: Migrant-Rights.org
By Raja Althaibani
In April 2017, a Kuwaiti woman posted a horrifying video of Ethiopian domestic worker Adesech Sadik clinging to a windowsill, crying for help and then falling to the street below. Instead of responding to her cries for help, the filmer is heard saying, "oh crazy, come back"—before the maid lost her grip, and fell several stories. In addition to filming the moment of the fall, the Kuwaiti woman calmly walks to the window and captures one final image of Sadik lying on the roof of the adjoining building below, clearly injured and possibly dead.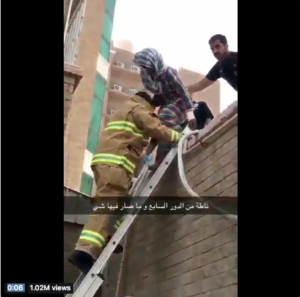 Another Snapchat user captured the paramedics team arriving, treating Sadik's injuries, and rushing her to the hospital. Both videos were widely circulated online, leading to the Kuwaiti employer's arrest. She was charged with not helping Sadik even though she was in obvious distress, an offense punishable by up to three years in prison according to the Kuwaiti penal code.
Among the final charges confirmed by the Ministry of Justice were the following: filming an individual without consent and publishing a video of an individual without consent. Months later, Kuwait's Appeals Court sentenced the woman to one year and eight months in jail.
Sadik's Viral Video Sparks a Public Outcry and Competing Narratives

The viral video sparked outrage on social media in the region, with the hashtag #Ethiopia_falling trending for two days in the country—triggering widespread condemnation and dialogue on migrant abuse. Human rights organizations also took to their platforms, calling for investigations and to raise alarm over similar cases reported in Kuwait.
Video of a woman in #Kuwait dangling from window is not the 1st time a domestic worker attempted a dangerous escape https://t.co/jaSpVDrWwf

— Tara Sepehri Far (@sepehrifar) April 3, 2017
Media outlets also rushed to report on the viral video, flooding audiences with competing narratives of Sadik's attempted "suicide" or "escape".



However, even though both social media and news media consistently misreported the incident as an attempted suicide, it was actually an escape. Despite multiple clues that Sadik is attempting escape—particularly that she calls for help—prominent newspapers such as The Guardian still recycled headlines like "Kuwait woman detained for filming maid's suicide without helping, even though there was no indication from the domestic worker that this was a suicide.
Later, Sadik provided video testimony from her hospital correcting this narrative, saying that her accident was not a suicide attempt, but rather an an attempt to escape from her abusive employer who had threatened to kill her. Her testimony was captured and disseminated in multiple languages by Ethiopian media and rights organizations who had been monitoring and reporting on this issue and these cases. The website Africa News also posted the video, contextualizing her testimony in the overall narrative of the experience.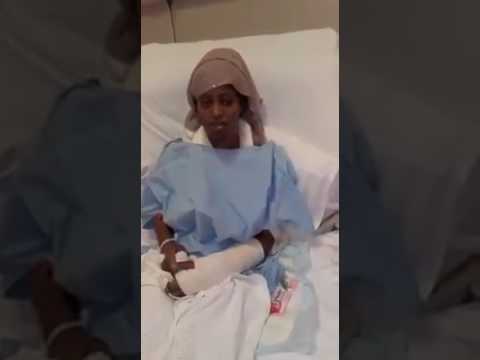 "I wasn't trying to commit suicide, I was trying to escape from the woman who tried to kill me."
Migrant Abuse Captured Frequently in Burgeoning Social Media Environment of the Arab Gulf
The MENA region is among the top three global markets for the social media platform Snapchat, developed by technology firm Snap Inc, according to Hussein Freijeh, general manager of the firm's regional team. People in the Gulf increasingly use social media to discuss issues of public interest, for self-expression, and to communicate and interact with one another in ways that are otherwise restricted in reality because it allows a sense of privacy and anonymity. For example, in Saudi Arabia, social media quickly became an outlet and one of the few spaces where female candidates running for office could campaign without getting into trouble. Saudi women also use tools like Snapchat to run their businesses.
However, social media platforms are also a window into the prevalence of abuse and negative views of migrant workers.  Recently, Vogue Arabia's social media influencer and beauty guru, Sondos Alqattan, who uses Snapchat and Instagram to give fashion and health advice to her 2.3 million followers, shared a video where she vocalized her criticism of a new law that offers greater protection to migrant workers in Kuwait. During her derogatory rant, Alqattan said that domestic workers, who she referred to as "servants", should not be given days off. Her video went viral, leading to public outrage and severed ties with leading beauty brands where she served as a brand ambassador.
These broadcasts are expounding indicators of a culture of dehumanization of migrant workers in Kuwait and the Gulf – also highlighting resistance to reforms to end widespread abuse in the Gulf state. Moreover, it sheds light on the critical role of the kafala system, which in of itself, creates the inhumane conditions faced by hundreds of thousands of domestic workers while offering protection to culpable sponsors from any accountability or punishment.
In an interview with the Tempest, Diana Alghoul, a feminist journalist who covers the region explains that the practice of broadcasting abuse of domestic workers on social media is very common, particularly because people know they could get away with it. "It isn't enough to shut down the Snapchat account, or even hold the perpetrator to account. Widespread reforms must be carried out in all countries that practice the sponsorship system, which must be dismantled for there to be any hope of improving the depressingly substandard conditions domestic workers are forced to endure."
What these videos and tools have also helped surface is an underlying racism that exists within Gulf culture and what Alghoul explains as a more deep rooted issue of racism that extends to the Arab feminist movement as well, where self proclaimed "humanitarian" and women's rights activists have used tools like Snapchat to film and taunt domestic workers.
@Loreal As a brand that supports women's rights ,is it acceptable for your brand ambassador @OlaAlfares to treat domestic workers as slaves? pic.twitter.com/ZgSV0xIPFL

— Farah Mesmar (@Missmarized) March 28, 2017
How can journalists report ethically on perpetrator videos shared in social media platforms like Snapchat?
These videos present a unique challenge for journalists and human rights defenders; while we want to use them to enhance our understanding and reporting on perpetrators' human rights violations, we do not want to further the objectives of the abusers.
This challenge is particularly acute in reporting on migrant abuse in the Gulf where there is a persistent lack of data, fact-checking, and little understanding of the context of these violations, crimes, and risks. However, in some cases, a short video can serve a witness to a crime that is otherwise anecdotal and unproven.
Metadata embedded in most cell phone video can often provide additional information and evidence on where and when the crime took place, and, in some cases, who committed it. When the video is filmed by the perpetrator themselves, it can provide rare access to information regarding who the abusers are, and who else is involved.
But what should we, as journalists and human rights defenders, be aware of when using one of these videos as a source or human rights documentation, or, further yet, posting it? Here are some key safety and ethical considerations to help journalists and human rights defenders report on migrant abuse using Adesech Sadik's case as an example.
Fact Checking
Migrant Abuse
Consider the local context and biases
For international reporters, it is important to consider that migrant labor is reported from the perspective of the employer and from government circulars which are often shared and found in Arabic and English (common search languages), and could very well be biased in their narrative. In the case of Adesech Sadik, some of the reporters using these sources did not further investigate these claims that her accident was an attempted suicide, until Sadik had to come out and correct it herself.
Work with local media and rights groups when searching for stories, content and fact checking
Social media and eyewitness footage rarely tells the whole story. Most documentation and evidence of migrant abuse in the Gulf Cooperation Council (GCC) is anecdotal, which makes access to verified video and information difficult. While local and social media can be an invaluable source, it often lacks the context and verification standards needed to create a balanced report. In breaking news situations like in Sadik's case, it's important to do a thorough fact check and not rely on one narrative, such as the perpetrator of the abuse who uploaded the video. Try to locate and speak with the victim directly. This problem is exacerbated when international media pick up local stories and don't verify or conduct original sourcing of their own. Make sure you have access to a diverse range of sources and experts who understand the underlying causes of these issues.
Get perspectives from media outlets in migrants' countries of origin  
One way to combat this is to build a list of credible sources from migrants' countries of origins. Don't limit your search to English or Arabic-language social networks and sources. Broaden your search pattern, and search for content in multiple languages; particularly the language of the migrant involved in the case. Often coverage of these cases starts in the local media of the migrants' home country, and can prove vital to sourcing, verifying and contextualizing a story. These local outlets are also more likely to understand the perspective of the migrant as seen in this article, from Ethiopian media about a woman who was badly beaten by her employer in Lebanon. They let her speak for herself, or in the most vulnerable cases, coordinate with organizations specializing in migrant rights to strategize the most responsible media coverage.
Resource alert! Bellingcat on How to Collect Sources from Syria If You Don't Read Arabic.
Include verified, first-hand accounts from migrant workers in your reporting
Often, migrants upload or share their own photo/video testimonies to social media. Search for these first-hand accounts, and build the context from there rather than sifting through the noise on social media. Other videos can be used to elaborate on patterns of migrant abuses which further contextualize the story as part of a trend, rather than an isolated incident.
Abdul Sattar Makandar, an Indian man working as a truck driver in Saudi Arabia, filmed a video of himself stating how he had been denied to visit his home and that how he hadn't always been paid in time by his company. He sent the video to Kundan Srivastava, an Indian activist, who then uploaded it to Facebook, where it was watched more than a million times. And though the company denies these claims, you can still compare the claims for consistency with those made by others, as well as reviewing them with local rights groups and interviewing people connected to the case, such as Srivastava.
And consider subtitling these first-hand accounts. There is an enormous need for this type of translation and if you are able to provide it, this helps the story spread and get picked up by international media. Local media and rights organizations can assist with translation support, in addition to those sharing the video on social media (i.e. crowdsourcing).
Reporting the Bigger Picture
Eyewitness and perpetrator videos document the widespread mistreatment of migrant workers, ranging from humiliation to torture and in some cases, murder. While authorities continue to report these cases as isolated instances of abuse, these videos illustrate that these abuses are symptoms of widespread racism and a culture of impunity that results in flagrant disregard for human rights.
These videos can support demands for accountability and assist existing efforts to end the structures that have allowed these abuses to perpetuate, unchecked.
In upcoming posts, we will explore the role of context and ethical considerations to weigh before publishing, so not to play into the perpetrator's narrative.
Journalists and human rights defenders can advance the conversation by ensuring that their reporting places migrant workers' stories in the specific context of the kafala system and broader migrant and labour system—not just as a one-off incident. These incidents are tied to each other and reveal a troubling pattern of systemic abuse in the region. Ethical reporting can help expose and address these abuses, and make sure that the world listens.
Additional Resources