WITNESS joins #WeHaveRights campaign
WITNESS is proud to join a powerful coalition of community and media groups working to educate and mobilize communities at risk of abuse by Immigrations and Customs Enforcement (ICE).
#WeHaveRights highlights the right to record encounters with ICE.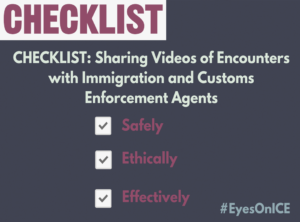 We have joined this campaign in conjunction with our ongoing Eyes On Ice series, which focuses on how videos of ICE encounters can be used for evidence and advocacy that protects undocumented and immigrant communities in the United States.
ABOUT THE CAMPAIGN
We Have Rights is a national immigrant empowerment campaign that will provide critical information to communities threatened by ICE and engage the broader American public in an urgent conversation about immigrant justice in our country.
As anxiety rises in immigrant communities across the country and families become more vulnerable to ICE, there is an urgent need for reliable information that helps immigrant communities understand their rights as well as safe, practical steps that they can take to defend themselves during encounters with ICE.
In direct response to expressed community need, Brooklyn Defender Services (BDS) has joined forces with ACLU National and MediaTank Productions to create and distribute a series of powerful and informative videos based on true stories to provide real life action points for what to do when ICE is outside our doors, is in our homes, stops us in our communities, and/or arrests us.
All four videos are available in 7 languages: English, Spanish, Arabic, Mandarin, Russian, Haitian Creole and Urdu
The videos are voiced by an all-star cast of influencers and activists, including:
Jesse Williams (English), Diane Guerrero (Spanish), Kumail Nanjiani (Urdu), Linda Sarsour (Arabic), Edwidge Danticat (Haitian Creole) and Katya Lee (Russian).
ACCESS RESOURCES AND AMPLIFY THE MOVEMENT!
www.WeHaveRights.us features all videos, and includes actionable resources for visitors to prepare for the scenarios depicted in the videos, such as making an emergency plan.