Eyes on Courts: Documenting ICE arrests
WITNESS, Immigrant Defense Project (IDP), and New York Civil Liberties Union (NYCLU) created this resource to inform people that they have the right to film and document Immigration and Customs Enforcement (ICE) targeting and arresting immigrants at courthouses. The information in this resource is specific to a New York City-based audience, but many aspects can be applicable to communities in other spaces. It offers important information about your rights, and best practices for documenting an incident. Remember: Always use your best judgement and assess risks to yourself and those you are filming before hitting "record".
Read through all the questions or jump to the ones you're most interested in:
---
(1) Why is documentation of courthouse arrests important?
ICE has announced publicly that it will not refrain from arresting witnesses and survivors of crime at court appearances. In 2017, there was a 1200% increase in reports of ICE arrests and attempted arrests at New York courthouses. ICE's presence in and around courthouses further creates a climate of fear and panic for immigrant communities as people are reluctant to testify as witnesses, show up for court dates or scheduled immigration check-ins.
In many cases, individuals arrested in and around courthouses were facing a first-time arrest for a traffic violation, and most immigrants were reporting to court on low-level offenses. In some cases, charges were even dismissed, but ICE still proceeded with the arrest. Several of those arrested had documented mental health issues, and/or were survivors of family violence. ICE agents have also gone after immigrants in Human Trafficking Intervention Court, which is designed for victims of human trafficking who face prostitution-related charges. And for the first time ever are targeting immigrants in Family Court, arresting parents in visitation and child support proceedings.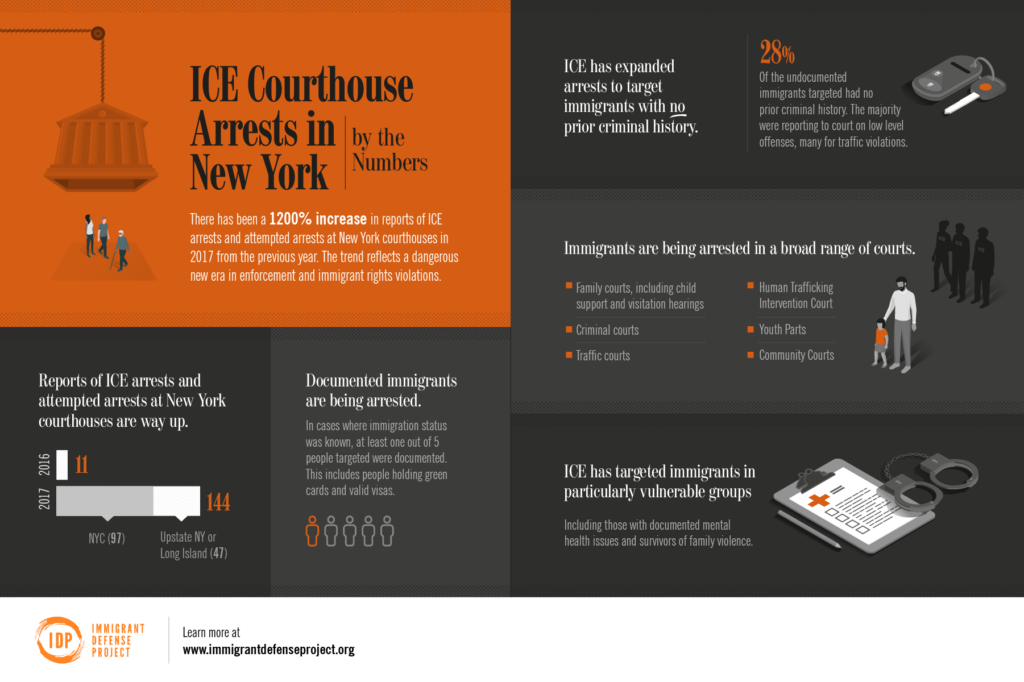 Documenting ICE's activity and sharing these stories can help us to expose abuses and advocate for abolishing these harmful policies and practices. Horrifying videos like this one and this one, and stories shared through IDP's ICE watch Project have already helped lead to advocacy efforts like the ICE out of Courts campaign. Filming and sharing these stories helps us to track ICE tactics and trends, better understand how they're operating, and channel that knowledge to protect ourselves and fight back. For more information, visit IDP's ICE out of Courts Campaign toolkit.  
(2) Can I film ICE agents in a courthouse? What about outside a courthouse?

You generally cannot film inside a courthouse in New York City, but you can film outside. Generally the public has a right, regardless of immigration status, under the First Amendment, to record video and take pictures in public places. Though neither the Supreme Court nor the Second Circuit have definitively ruled on the First Amendment right to record, federal courts in multiple jurisdictions have issued decisions recognizing such a right, including federal district courts for the Southern District and Eastern District of New York, which encompass the five boroughs of New York City. However, the government can place reasonable restrictions on the time, place, and manner in which you film or take photos.
The right to record is partly rooted in the First Amendment right to spread information about public officials and government misconduct. Filming law enforcement officers performing their duties clearly advances that right. Law enforcement officers cannot lawfully arrest people simply for filming them. ICE and other federal immigration authorities are not exempt from these restrictions. The U.S. Court of Appeals for the Ninth Circuit recently applied the right to record law enforcement in a case involving U.S. Customs and Border Protection (CBP).  
(3) What about filming in a criminal court?
The right to record can be subject to reasonable time, place, and manner limitations. In New York City, the criminal courts where ICE frequently arrests people are operated by the Office of Court Administration (OCA). OCA has a rule in place that bars people from filming, taking photographs, or recording audio in its courthouses without advance permission. That rule has been upheld against constitutional challenge in one federal district court case.
However, the OCA rule does not prohibit anyone from filming outside of a courthouse, where many ICE arrests take place as people are leaving the building. When on the streets or sidewalks outside a courthouse building, you have the same right to record law enforcement as in other places. In a similar context, the NYCLU successfully settled a lawsuit on behalf of a photographer arrested for taking photos outside a federal courthouse, requiring courthouse officials to instruct their officers that the public has a general right to film the outside of courthouses.
(4) Can I film ICE agents making an arrest?

Yes, as long as you don't interfere with officers' or agents' law enforcement activities. While you may film ICE agents from a reasonable distance with handheld phones and cameras, the First Amendment right to record doesn't protect filming that impedes officers in the performance of their duties.
Courts have not clearly spelled out what it means to impede or interfere with law enforcement activities. However, some more recent federal court decisions suggest that the right to record may be subject to limitations if a person gets too close to officers when filming, does not comply with an officer's reasonable request to back up from the scene of an incident, or steers a drone with a filming device too close to the site of an active police investigation.
(5) What should I film? Is there anything I shouldn't film?

Remember to focus the camera on the officer or agent and not the person being harassed or targeted. Far too often footage of violence and abuse is used against the person or community we're hoping to help protect. If it's not possible to focus only on the ICE officer, there are tools to help you blur out identifying details such as faces, license plates, tattoos, etc. before sharing the footage publicly. Check out WITNESS' tutorial on how to use Youtube's free blurring tool. It can also be helpful to film horizontally and not vertically in order to capture more of the scene. Try to film as much of the interaction between the ICE agents and individual(s) they are arresting, even if you are across the street.
Capture details like:
Any paperwork the officers are holding

Badges (or lack thereof)

Capture if they are in uniform or plain clothes. If they have a visible badge, try to film it. If it's too difficult to capture the badge numbers, you can read them out loud.

Any weapons officers have on them

Vehicles/license plates – some Department of Homeland Security vehicles have special license plates or even permits in the front.

Communications between officers or among different agencies like court officers and ICE agents

Hateful comments/slurs if you are close enough to capture sound

Torn clothing or property damage

Discriminatory symbols or signage

Film or take note of other cameras in the vicinity including

surveillance cameras

– these can offer a corroborating angle for your footage in the future
Make your footage easier to authenticate by filming context like:
A clear shot of the outside of the courthouse

Signs that indicate the court name

Any landmarks nearby

Street signs, a clock or smartphone home screen  – these details can help verify your time date and location
Check out WITNESS' filming ICE tip sheet for more.
(6) What if they tell me to stop filming?

If an ICE officer or other law enforcement officer tells you to stop filming, depending on your comfort level interacting with law enforcement, you may want to comply with orders, or assert your rights but continue to film from a further distance. Remember that even if ICE doesn't target you, they could take out their frustration on the person in custody. And if you or someone close to you has vulnerable immigration status, it might be best to stop filming all together.
If you stop recording, you can still make note of what else you witness and write it down afterwards. Remember there is great value in bearing witness to an incident even if you don't film – having eyes on an ICE agent or incident can help deter violence. Even taking a single photo has a lot of value. Taking written notes, filming an incident from across the street, or just recording audio can be helpful in one party consent states like New York where it is legal to record audio from a conversation without the other person's consent. Not filming might even allow you to safely get closer to the incident and hear important details you might not feel comfortable capturing on camera. Take note of things like:
Date, location

Name and type of court where the incident took place

How many ICE officers there were

How agents were dressed

How agents identified themselves

Did they present a warrant or refuse to?

Where exactly did the arrest take place? In the courthouse? Hallway? On the steps?
For more information on note taking, see the Documenting the Problem and Building A Case section of IDP's ICE out of Courts toolkit.
(7) How can I protect my footage and myself?

Secure your phone with at least a 6 digit password. Avoid the fingerprint ID and face ID to lock your phone – these are not currently protected under your 5th amendment constitutional right to not give up information that might incriminate you during a legal proceeding. Law enforcement can't force you to give up a passcode without a warrant or court order, but they can ask or coerce you to unlock your phone with your fingerprint or face.

Having a legal support number and/or trusted contact's info handy can also help keep you and the person you are filming safe. If you know you're going to be outside court that day, consider writing it on your arm in permanent marker.

Even better, memorize it.
IDP offers criminal-immigration advice and support to immigrants and their loved ones: 212.725.6422

Be aware that ICE agents and police care mainly about their safety, not yours. Moving quickly or suddenly to grab your phone or reaching into your pocket could escalate the situation.

To help protect the person you are filming, avoid alleging anything about the person's immigration status or criminal history on video – anything learned during an arrest can be used against the person in court. Avoid filming their face or any identifying details if possible, and always think before sharing footage – see below for more on sharing.
Check out WITNESS' filming ICE tip sheet for more.
(8) What do I do with my footage after filming?

It is crucial to stop and think before sharing or posting footage online. Without taking necessary precautions, sharing footage publicly could put you, the person who was harassed or abused, or others at further risk of harm or retraumatization by exposing their identity, immigration status, etc. Before sharing, seek advice from a trusted advocacy group or lawyer about how you can best protect yourself and those on camera. Video advocacy does not have to happen alone – in fact, video is best utilized as a tool to expose abuses, corroborate other forms of evidence, and create change when you work with others.
Review WITNESS' checklist of questions to consider before sharing a video of an immigration abuse publicly to learn more about how to stay safe and make the biggest impact with your footage. And always remember that if you have filmed a human rights abuse, don't edit or change anything about the file or file name, and save copies of the unedited footage in a safe place.