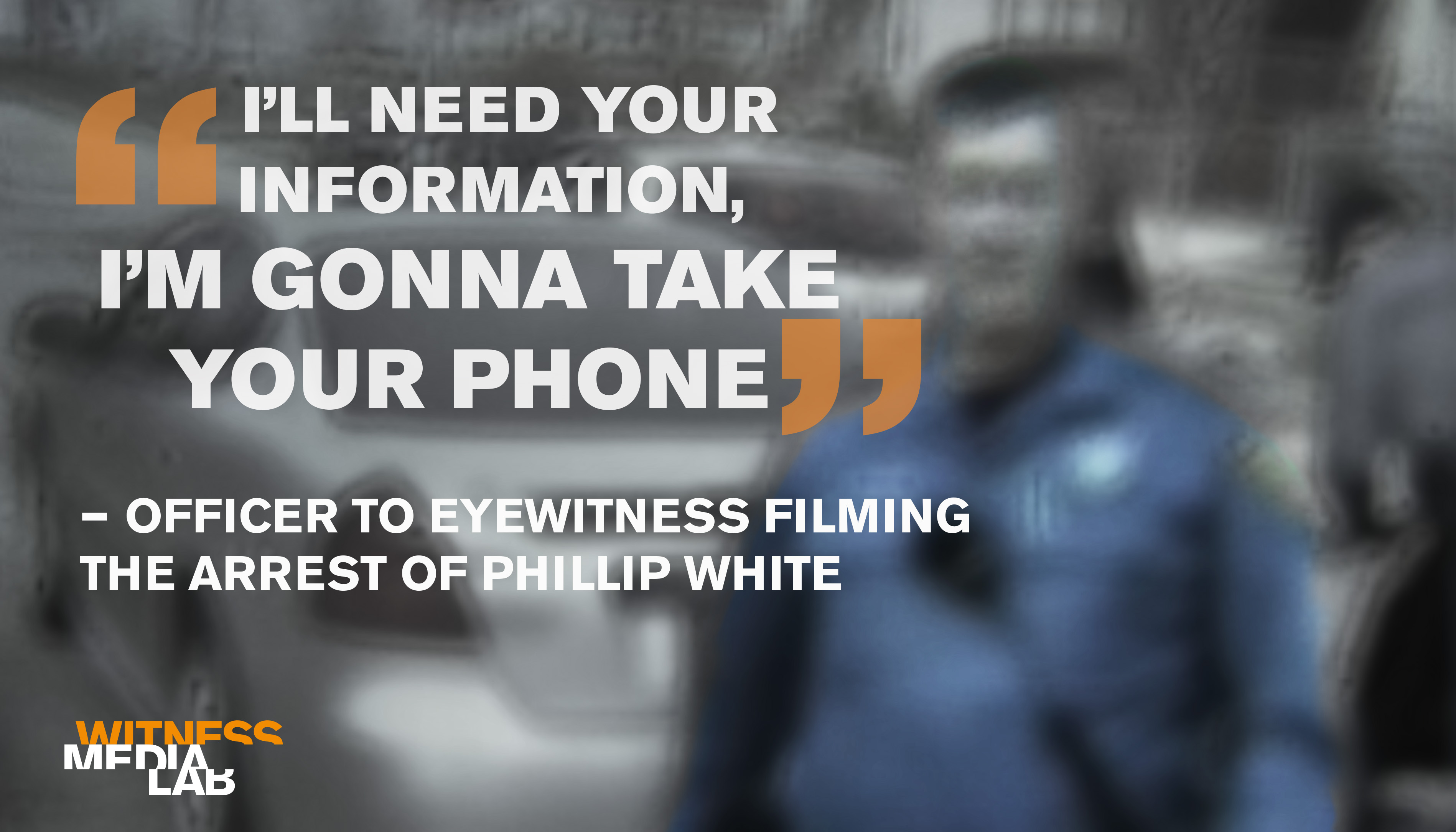 ABOUT
Phillip White: Death in custody after attack by police and canines
Phillip White was walking in the late morning of March 31, 2015, in Vineland, the New Jersey town where he lived. Police officers approached him, responding to a call about a disorderly person. It is unclear how the encounter began, but it ended with an unarmed, 32-year-old White arrested, taken away in an ambulance, and declared dead upon arriving at the hospital.
What happened in the interim was witnessed by several bystanders and recorded in two videos that emerged online and in the local news in the following days.
Warning: Disturbing Footage
The videos were taken from about the same angle and overlapping moments of the incident. They both begin with White on the ground. Though White's upper body is mostly obscured by a car and the officer straddling his torso, his legs are noticeably still when the officer calls a canine to attack his face. "Get that dog off," a witness can be heard shouting. "He's knocked out. He's not even moving." The second video ends with an officer approaching the filmer saying he will have to take his phone for evidence.
Police have said that White tried to grab an officer's gun. Several witnesses have told the media that an officer punched White and that he was unconscious by the time the officer set a dog to attack him.
"Get that dog off!" – bystander to officers as police canine attacked Phillip White
The case of Phillip White stands in stark contrast to that of Walter Scott, whose death at the hands of a police officer in North Charleston, South Carolina, days later made national news. The bystander video and media attention of Scott's death resulted in the prompt indictment of an officer on murder charges, whereas White's death received little coverage outside of local news. Thus far, pressure from activists has yielded few answers from local officials.
A week after White's death, Vineland Police Chief Timothy Codispoti was quoted saying that "There is obviously more that is going to come out," about the incident, but for the time, toxicology reports would remain private out of respect for the deceased family. Five months later, however, authorities have yet to release the autopsy report to the public or to White's family, according to their attorney, Stanley King. The Cumberland County Prosecutor's Office told WITNESS they could not discuss the case while it was still under investigation. Despite reasons given for withholding some information, the Vineland Police Department did release audio of the 911 call reporting a "crazy person," and emergency dispatches of officers on the scene.
The two officers involved in White's arrest, Louis Platania and Richard Janasiak, were initially reported to be on administrative duty pending the investigation. In mid-August, the Vineland Police Department told WITNESS they remained on modified duty.
Focus on Cumberland County
Phillip White was the third person to die in police custody in Cumberland County in 100 days. The other two cases also involve video. On December 30, 36-year-old Jerame Reid was shot dead by police during a traffic stop in neighboring Bridgeton. The encounter was recorded on dashcam video. On March 19, 24-year-old Alissa Allen was arrested during a traffic stop in Millville for possession of drug paraphernalia and a warrant for shoplifting in 2012. Three days later, she was found dead in her jail cell. Police car video of Allen's detention raised questions about what she may have consumed prior to being taken to jail.
New Jersey activists and community leaders have cited these three cases in their demands for greater scrutiny of police practices and of the processes in place to investigate allegations of misconduct and abuse.
A handful of officers account for the most frequent use of force, including the two involved in Phillip White's death.
The Latino Leadership Alliance of New Jersey did just that, reviewing use of force reports filed by Vineland police officers between January 2013 and March 2015. Those reports are required whenever high levels of force are used. The group found that a handful of officers account for the most frequent use of force. The two officers involved in White's death were among them. According to required public reporting, between 2011 and 2014, the Vineland Police Department investigated 137 allegations of excessive use of force, and not one of the cases was sustained. The Latino Leadership Alliance has called for greater transparency and independence in investigations of police misconduct–a demand echoed in a petition delivered in May urging the Department of Justice to audit law enforcement in Cumberland County.
In the meantime, the Cumberland County Prosecutor has released its findings in the two other recent in-custody deaths. In June, it determined that Alissa Allen's death was a suicide. Allen's family has filed a wrongful death suit. In the case of Jerame Reid, a grand jury decided not to indict the officers involved in his killing. Reid's family is calling for a federal civil rights investigation.
None of the Cumberland County deaths have received the kind of nationwide attention as many other officer-involved shootings involving video, and thus far it is difficult to say what, if any, impact, video has had in their cases or on accountability for police misconduct in New Jersey. However, the attention on police killings across the nation and in Cumberland County has resulted in recent reforms intended to provide greater oversight of law enforcement. In April, the Vineland mayor announced he would appoint a special committee to review police department practices related to the use of force. And in July, the New Jersey Attorney General's Office issued revised guidelines on deadly force investigations. The guidelines were announced together with a directive on the use of body cams and a $4 million plan to disseminate them throughout New Jersey law enforcement agencies.
How does this case inform guidance and approaches to using video effectively for justice? Read the Media Lab's Overview & Analysis.
Project
This is part of a WITNESS Project
examining the impact of video in documenting police misconduct in the U.S. and its role in achieving justice and accountability.