How to Film the Police in the U.S.
There is no doubt that more and more people in the United States feel compelled and empowered to pull out our phones when we see a police encounter. Even as some of our shortsighted public sector leaders have downplayed the importance of citizen participation in holding police accountable, or even demonized those who take action, people continue to press record. As Carlton Williams, an activist and lawyer with the ACLU of Massachusetts, said last fall, "people's backs have stiffened."
But if we are increasingly willing to film the police, are we actually ready to do so safely and effectively? To make an impact as a witness, you need to know your rights and how to exercise them, understand how to best prepare yourself and your phone and have a plan for what you'll do with an important photo or video after you shoot it. That's where training and leadership from copwatchers, activist lawyers, community organizers, and others come in. We work alongside many of those leaders and have leaned heavily on their guidance and input alongside our own expertise, so we wanted to distill some of that knowledge into an accessible format.
The product of that work is below – in the form of a new WITNESS tipsheet – and you can download it here. Also available in Spanish and Arabic.
[Updated November 2018]: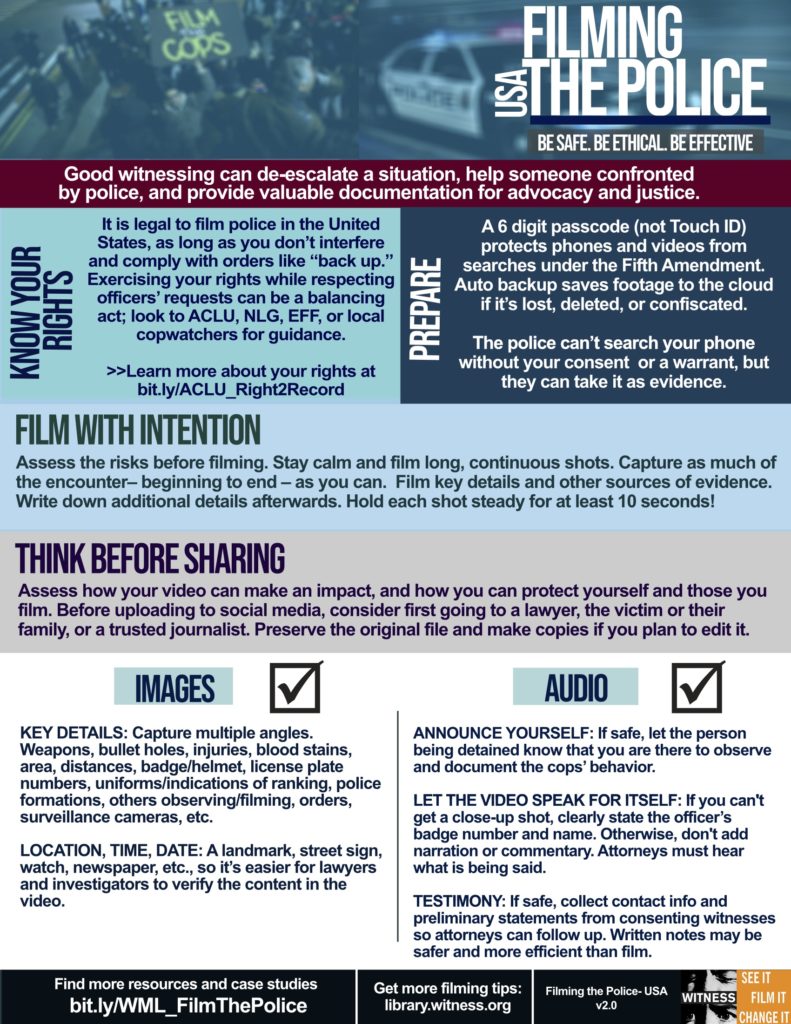 As with all our materials, this tipsheet is released under a creative commons license, so it can be reused, adapted, and borrowed from however you see fit, and we will continually refine it. On our end, this basic guidance is already being incorporated into trainings alongside more in-depth material. 
For more on how citizen witnessing of police violence is evolving, see our in-depth look via the WITNESS Media Lab. 
Featured image by Al Schroetlin, Denver, CO, Oct 9, 2007